BioTester – Biaxial Tester
Fully equipped biaxial test systems built specifically for biomaterials
Biaxial testing is critical for understanding the mechanical properties of biomaterials due to their directionally oriented microstructures.  The BioTester systems have been designed to make biaxial testing simple so that users can focus on results rather than testing.
Key Features
4 high performance actuators with inline load cells
Several attachment options including patented BioRakes for fast and reliable specimen mounting
High resolution imaging with image-based strain measurement tools
Integrated temperature controlled media bath
Fully featured user interface software for simple, cyclic, relaxation, and multi-modal testing with real-time feedback
BioTester 5000
Full feature set included with the standard system
Long stroke for up to 80mm grip separation
BioTester 3000
Modular design with many optional features
Small size with increased access for imaging and other instrumentation
Specimens & Mounting
The BioRake sample mounting system is CellScale's patented method for attaching soft tissues and biomaterials.
Each tine is electrochemically sharpened to easily pierce both the toughest and most delicate tissue samples. Each set is permanently attached to a common base to allow simultaneous puncture of all 20 attachment points. The BioRakes are magnetically mounted for easy removal for cleaning or replacement and for simple transition between BioRake, Balanced Pulley, and Clamp mounting systems.
To perform testing, samples are positioned and raised into place using the manual lift mechanism and pressure is applied to insert the hooks in the tissue. The sample is thus mounted and ready for analysis within a few seconds. The mounting is consistent, accurate and easy.
BioRakes are available with tine spacing ranging from 0.7mm to 2.2mm to accommodate specimens from 3 to 15mm in size.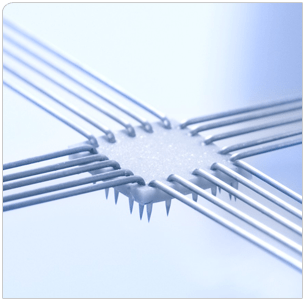 The balanced pulley sample mounting system is CellScale's attachment method for ensuring zero shear stress during biaxial testing.
Two double-ended custom suture hooks are used to create 4 attachment points on each side of the specimen. A two-stage stainless steel pulley mechanism ensures that each of the sutures is held at the same tension during the test.
The pulley mechanisms are magnetically mounted for easy removal for cleaning and for simple transition between BioRake, Balanced Pulley, and Clamp mounting systems.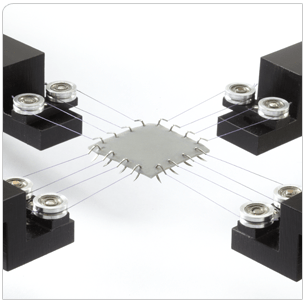 The clamp sample mounting system is CellScale's attachment method for testing to failure.
Using a cruciform specimen allows the attachment sites, which are inherently weaker than the base material, to be moved away from the gauge area of the specimen. The clamps allow the specimen to be loaded easily and held securely.
The stainless steel clamping mechanisms are mounted over the same brackets used for the other attachment systems to allow for fast and easy transition between BioRake, Balanced Pulley, and Clamp mounting systems.
Custom clamp designs can also be made to tailor the clamp force and clamping surface to your tissue.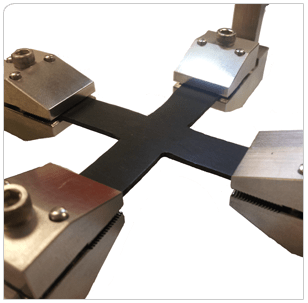 Software
The BioTester's setup, operation and data collection software module allows for simple execution of standard or customized test protocols.
Test parameters such as displacement magnitudes, durations and data/image collection rates are specified in a table format for quick access and modification. Both displacement and force controlled testing can be specified for each axis independently. A template system is used to quickly reload the desired test parameters once a protocol has been established.
The software interface provides live imaging and current force, position, and temperature information to the user during the test setup. While the test is running, the software provides real-time results graphing and a live video feed to facilitate user monitoring of the test progress.
Ask anyone who has used our equipment and they will be quick to tell you how intuitive and useful this software package really is.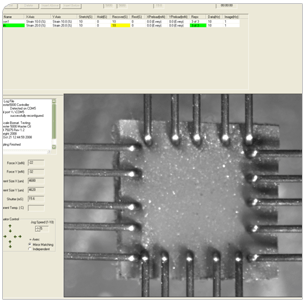 A large part of biaxial testing is understanding and interpreting the collected data.
The BioTester includes an image analysis software module which can be used to review and analyze test images, providing valuable quantitative and qualitative information. This same module can be used to export .avi videos or images with data overlays for presentation purposes.
The BioTester contains a high resolution camera with an excellent visual of the specimen for the duration of the test. The collected images (at a user-specified frequency) are automatically time-correlated with the force displacement data so that the software module can put all the test information at the user's fingertips.
The image tracking feature of the software module allows test images to be analyzed quickly and easily to determine in-plane motions of one or more points on the specimen surface. This tracking information provides a direct measure of specimen strain rather than relying on strains calculated from grip motion. By tracking a grid of points it is possible to study the strains in different regions of the specimen.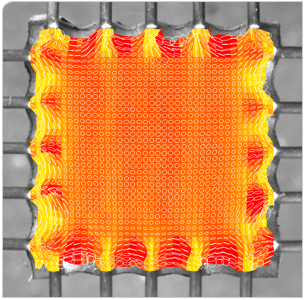 Prof. Chung-Hao Lee (Oklahoma) on Heart Valve Testing and Modelling
BioTester Image Tracking Example
Heart Tissue Testing at the University of Denver
Cardiovascular Tissue Testing at KU Leuven
Arterial Wall Testing at the University of Nebraska
Low Back Disc Tissue Testing at the University of Waterloo
What Our Customers Are Saying
Don't just take it from us, let our customers do the talking!
The CellScale Biotester offers great flexibility with planar biaxial testing, providing compact and robust hardware setup paired with flexible and capable software. Attachment systems are quick and easy to use, making the device particularly attractive for testing large numbers of specimens…We've had great success with CellScale's customer support, they are very helpful when we have questions and always update us on their new software releases.
Constitutive description of human femoropopliteal artery aging.

| | | |
| --- | --- | --- |
|   | BioTester 5000 | BioTester 3000 |
| Dimensions (cm) | 60 X 60 X 80 | 46 X 46 X 13 |
| Weight (kg) | 18kg | 6kg |
| Force Capacity | 23N | 10N (23N optional) |
| Available Load Cells | 0.5, 1.5, 2.5, 5, 10, 23N | 0.5, 1.5, 2.5, 5, 10, 23N |
| Maximum Grip Separation | 80mm | 50mm |
| Maximum Velocity | 20mm/s | 20mm/s |
| Maximum Data Rate | 100Hz | 10Hz (100Hz optional) |
| Temperature-Controlled Bath | Standard | Optional |
| Imaging and Strain Analysis Software | Standard | Optional |
| Test Control Modes | Force, Displacement | Displacement (force optional) |
NOT SURE WHAT PRODUCT IS RIGHT FOR YOU?